Rachel Corrie (ISM)
March 17, 2003

Rachel Corrie: A heroine of Global Peace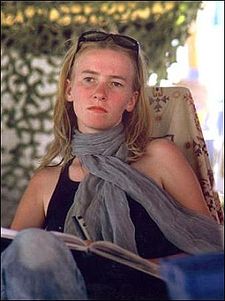 Above picture & quotes below from article by Jeff Halper:
"Dismantling the fortresses of fear"
YES! magazine, summer 2003 - "Finding Courage"

http://www.yesmagazine.org
March 17, 2003.
A 23-year-old American college student, Rachel Corrie, a member of the International Solidarity Movement, was killed in the southern Gaza city of Rafah, Palestine. Rachel was attempting to stop an Israeli army bulldozer from demolishing a Palestinian home.
After Rachel spoke to the driver via a megaphone to convince him to stop, and while she looked at him, he ran over her, then backed over her again.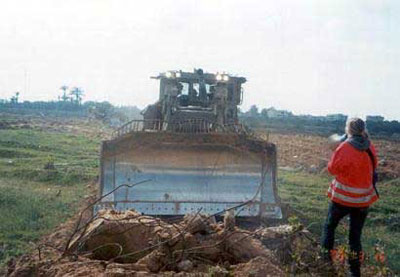 "Rachel was not the first person killed as a result of Israel's cruel policy of house demolitions. In March, Nuha Makadma Sweidan and her unborn child were also killed in Gaza when Israeli army sappers 'accidentally' demolished their home when they blew up another home nearby. A few weeks, before, an elderly woman and a disabled man died under the rubble of their Gazan homes when the soldiers 'failed to notice' them..."

"The house Rachel died protecting, Dr. Samir Nasrallah's home, was demolished as part of Israel's efforts to protect its fortress. Like dozens of other houses that have been bulldozed in that section of the dense refugee camp, Nasrallah's lay within a wide 'security strip' that Israel wants to create along the border with Egypt. No compensation was given to Dr. Nasrallah, no opportunity to appeal to any court, no alternative housing offered..."

In her actions, (Rachel) affirmed her responsibility for upholding the INHERENT DIGNITY & EQUAL RIGHTS of all people, including their right to a nationality."
Jeff Halper.
(Jeff is the coordinator of the Israeli Committee Against House Demolitions.
http://www.icahd.org
)
"I should at least mention that I am also discovering a degree of strength and of basic ability for humans to remain human in the direst of circumstances – which I also haven't seen before. I think the word is dignity. I wish you could meet these people. Maybe, hopefully, someday you will."
- Rachel Corrie, in an email to her mother, February 28 2003
The Rachel Corrie Foundation for Peace and Justice was established by members of Rachel's family and community to continue the kind of work that she began and hoped to accomplish... Since Rachel's killing, an enormous amount of solidarity activities have been carried out in her name around the world...
ISM Nominated for Nobel Peace Prize
- Letter of Nomination

To: The Norwegian Nobel Committee
Drammensveien 19
0255 Oslo Norway

Dear Committee Members,

AS a member of the House of Commons of Canada, and as the International Human Rights advocate for the New Democratic Party of Canada, it is my pleasure to nominate the International Solidarity Movement (ISM) for the 2004 Nobel Peace Prize.
The contribution of the ISM to advancing the cause of peace in the Middle East, to defending human rights, and to upholding international law is without parallel.This organization's selfless efforts to promote peace and protect the lives of innocent civilians in the Israeli-Palestinian conflict clearly merit international recognition.

Although this nomination is for the ISM as a whole, three young individuals merit particular recognition for the courage and resolve they displayed in their acts of non-violent civil disobedience in defence of peace and human rights in the Palestinian Occupied Territories.

These individuals are Brian Avery and Tom Hurndall, who miraculously survived sniper shots to the head by Israeli forces while they were defending Palestinian civilians from Israeli troops, and Rachel Corrie, who was crushed to death by an Israeli Defence Force bulldozer while attempting to prevent the demolition of the home of an innocent Palestinian family.

A Nobel Peace Prize for the ISM would be a fitting testament to the fortitude and principle exemplified by the members of this organization and these three individuals in particular.

Thank you for accepting this nomination.

Sincerely yours,
Svend J Robinson, MP